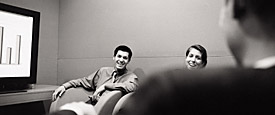 industry expertise



How can I manage and leverage my digital assets to establish a competitive edge? What internal infrastructure do I need to stay ahead of the game?

Industry consolidation and globalization are changing the terms of competition in these media and entertainment industries. Protecting intellectual property rights and effectively managing large volumes of creative content are imperative to survival.

Working with leading media and entertainment companies, Ascertane has built a solid reputation as the leading provider of business and technology consulting services and solutions to these industries.

Ascertane has proven our expertise in media and entertainment business process and IT issues. We offer flexible solutions for digital asset management, video on demand, distribution, revenue sharing, licensing, royalty management, enterprise architecture, syndication... just to name a few. The depth of our experience in these industries is unique and allows Ascertane to provide unrivaled value for clients' investments.